We're back!!!!!!!
The SSK lottery for 2022 is officially open! Here is the updated information for this years event/
On-Site Spots $825 each, Day Pass Spots $525 each
Lottery will be open until 3/5/22 and we will use a random number generator to choose participants. Any entry not chosen immediately will be put on a waiting list, which we pull from throughout the year. We will notify all who enter the lottery of their status (participant or wait list) no later than 3/11/22.
ACCOMMODATIONS
The sleeping room setup has also changed at the event center, Scarritt Bennett. The rooms are now managed by an outside company and as such the way that they are sold and accessed is different. All guests (except teachers) will still have roommates, and you will have the ability to choose your roommate – as always. However, in previous years, each room in a set (where 'a set'=2 rooms with a shared bathroom) had its own entrance. These rooms are now set up as suites with the management company, and as such there is only one entrance for each set of rooms. See diagram below.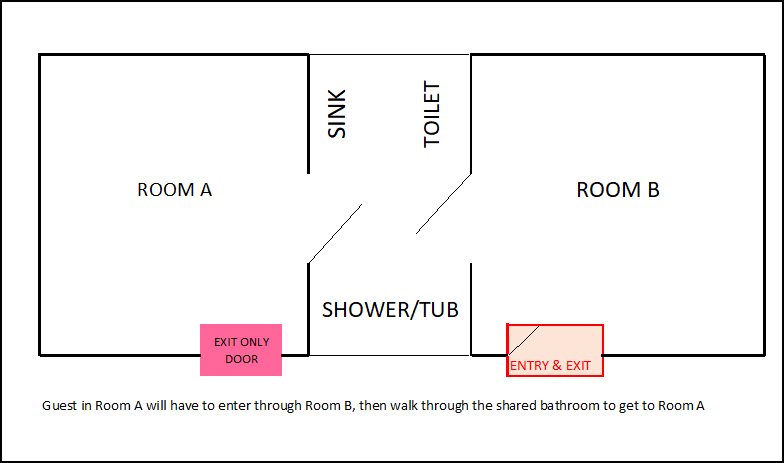 COVID Protocols
While both Laura and I hate the idea of dictating the choices of others, we have decided that we will be instituting a vaccination requirement for all attendees of the 2022 Super Summer Knitogether. There is simply no physical way to spread everyone out 6 feet at our event center during all activities. There are also activities like market, tasting room, etc where it is unavoidable to be in close contact with others. You will have to show proof of vaccination to attend the event or the market. You should also plan on wearing a mask during the event unless you are eating or drinking. We will have disposable masks available for your use at several spots in the main buildings. It's possible that the mask requirement may change due to state or regional requirements – we will let you know if that happens.
TEACHERS
We all know that life happens. As such, the teachers we signed up for 2020 are not all available for 2022. We are still thrilled to host Francoise Danoy (Aroha Knits) and Jillian Moreno (spinner extraordinaire). We're happy to announce that longtime vendor Jill Duarte of HipStrings will be teaching many fiber-related classes (for spinners AND knitters)! Jill is brilliant with bases and blends and we are excited to see her share that knowledge with our attendees in a professional setting. We are still searching for our fourth teacher, and we'll let you know when we have that info finalized.
Payment schedule will be as follows:
Deposit – $125 non-refundable deposit due by 3/31/22
Payment #1 – $200 for daypassers, $350for on-site attendees, due by 5/1/22
Payment #2 – $200 for daypassers, $350 for on-site attendees, due by 6/1/22
Like always, if you have any questions please email us or contact Laura on social media and we will be happy to help!
Got this far? Here's a link to the signup form